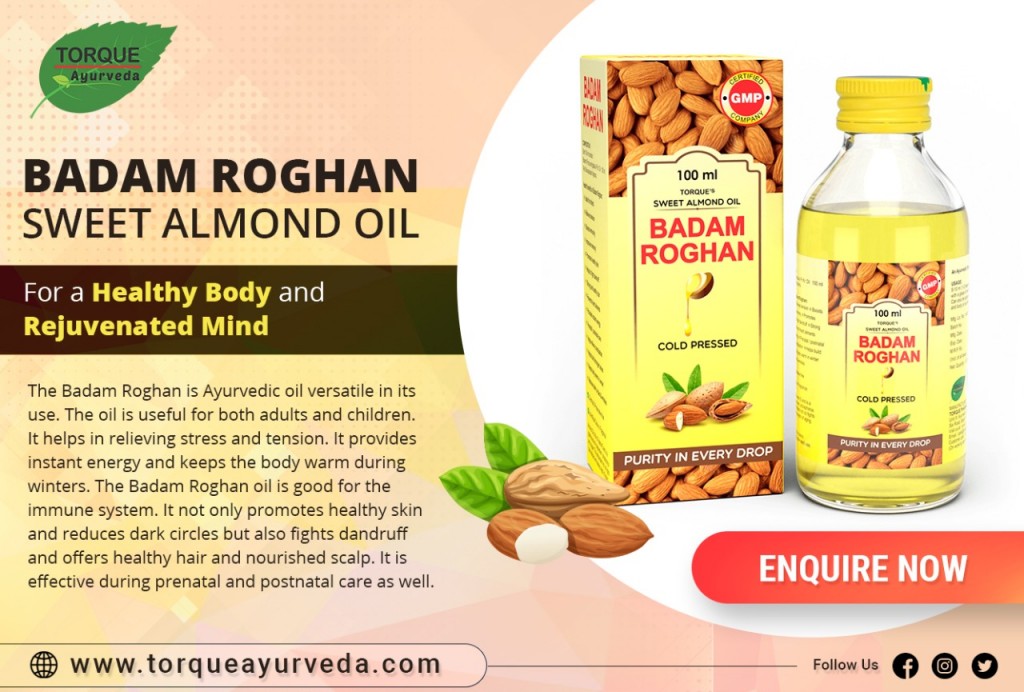 Why Badam Rogan Is Beneficial For Healthy Hair and Glowing Skin?
Everyone nowadays is so much conscious about their look. We all want to look flawless and beautiful in all ways. But no one is satisfied with what they have, and we all want improvements. It is very important to take care of your body, hair as well as skin because they are representatives of our body. But many of us face some common problems in our lives and there can be many reasons behind those problems. If we talk about the problems relating to hair and skin then hair fall, grey hair, thin hair, scalp infections, acne, marks, dark circles are the most common.
Almost all of us have faced this problem but now it is time to gear up and understand the importance of our hair, body, and skin to keep us healthier and confident. Sometimes we get so involved in our daily routine that we forget to take care of ourselves. But we must understand our worth and must spend some time in self-care. Many of us are not interested in spending so much money in salons. But the problems relating to continuous hair fall, hair loss, and rough hair are rising every day.
So, now you must know about a magical ingredient that will solve all your common problems relating to hair as well as relating to your skin. The almond oil is enriched with so many benefits for not only health but also for our skin and hair. This magical ingredient can do a great job for your hair problems. You can use Badam Roghan for hair fall and thin of hair. There is no specific time or anything relating to applying almond oil to your hair. You can easily apply direct badam roghan or can mix it with other oils to massage your hair. You can use badam roghan oil from Ayurveda.
Everyone wants to have that long, shinier ad smoother hair but we are not ready to do any effort. But when we all know that we can get all this with just a single ingredient then we must give it a try. Most of the ladies complain about slow hair growth whereas the problem of hair fall is so severe. In this case, we will discuss some remedies with which you can make your hair grow naturally. Some of them are:
Give your scalp a regular massage:

 Sometimes we just massage our hair once and we think we are done. But you need to massage your hair and scalp many times in a month to stimulate the growth of new hair and stopping the problem of hair fall. You can use badam roghan oil to massage your scalp as it will provide some internal benefits to your scalp and will improve the growth of your hair.

Keep a check on medicines that you take:

 Sometimes when the problem of hair fall becomes severe you must find out about your medicines. Sometimes, the problem of hair can be caused by those medicines which are having chemicals.

Wash your hair with cold water:

 Sometimes, we use hot water to wash our hair even in summers. But the hot water rinse can lead to more scalp dryness which will affect your hair strength and leads to the problem of hair fall. You must try to wash your hair with cold water and it will strengthen your hair and will make its growth faster.
There are so many reasons to use almond oil for your hair:
It makes your hair soft:

 The badam roghan oil will make your hair softer when you start applying this oil on your skin.

It repairs the damaged hair:

 Not only this, but almond oil is also good to repair your damaged hair. It reduces the breakage of hair by providing natural nourishment to your hair.

It is good for your hair growth:

 If you want to have long hair but your hair growth is slow then use almond oil to make your hair grow faster than ever. Your hair will be healthier, and it will promote your hair growth.

Solves many scalp problems:

 Almond oil is too good at solving all your scalp problems. It also helps in removing the problem of dry flakes on your scalp.
So, these were some of the benefits of the badam roghan for your hair. But it is not only good for your hair but it also makes your skin glow naturally. There are so many benefits of badam roghan for your skin as well. Some of them are:
Get rid of puffy eyes and dark black circles around your eyes:

 These two problems are not only common in females but also in males. There can be many reasons behind these problems but there is only one solution that is badam roghan oil. You can massage the affected area with your fingers to improve blood flow in that area.

Makes your skin acne-free:

 Acne is the most common problem faced by almost all of us. The problem of acne can be due to the excessive production of oils on the skin. But badam roghan oil is beneficial in improving acne-prone skin. The cell turnover can be increased with this oil which will naturally reduce acne.

Clearer complexion: 

Not only for solving the various skin problems but almond oil is also good for your skin tone. All its natural properties help in making your complexion fairer than ever.

Solution for dryness:

 Sometimes that severe dryness doesn't go with only body lotions. You need to apply something extra and more powerful and, in this case, almond oil is the best. It can help you act as a natural moisturizer for your skin. It reduces the problem of dry skin. It is also used to treat the skin problems associated with dry skin.
You can use almond oil in so many ways for your skin, some of them are:
Natural cleanser:

 Now mix almond oil with other oil to make it a natural cleanser. You may need to wash it many times to remove the oil from your skin, but it will take out the dust and dirt from your skin.

Moisturizer:

 The almond oil is versatile and you can use this oil as a moisturizer too. It can remove the problem of dryness and will provide the natural moisture to your skin that you cannot even get with the ready-made moisturizers.

A way to glowing skin:

 With all these benefits, you can get glowing, radiant, and shiny skin with the use of badam roghan. You can use 

badam roghan for skin

 problems, for brighter skin, glowing skin.
So, these are the following ways to make use of almond oil for both your hair and skin. You can get the pure and high-quality badam roghan oil from Torque Ayurveda. It is always better to use ayurvedic badam roghan oil than trusting the other brands. The badam roghan oil can be used in so many ways as it is having benefits for our health, skin, and body as well as for hair. The Torque Ayurveda also offers other products that will treat your every health problem naturally.